Our Expert Dietitian:
Linzi Cruz, RD, LD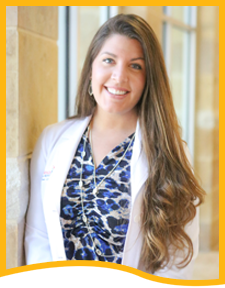 Linzi is a registered dietitian specializing in bariatrics. She supports BMI of Texas by personalizing nutrition counseling sessions for clients interested in bariatric surgery or medical weight loss intervention. She will introduce the strong foundation needed for you to eat right, be fit and positively influence behavior related health issues. Each session is customized to your individual health issues, lifestyle and weight loss ogals based on the criteria we follow here at BMI of Texas.
Linzi works with individuals interested in bariatric surgery as well as Dr. Jennifer Seger's medical weight loss clients through every aspect of their treatment. She is passionate about helping others improve the way we think and feel about food to ensure long-term weight loss success.
Linzi graduated with her first degree from the University of Florida, and then graduated cum laude with a second degree in Nutrition and Dietetics. She completed her clinical rotations in San Antonio, Texas through Baptist Health System. Linzi is currently completing her Master's degree in Nutrition and Dietetics with a focus on biological mechanisms of nutrition and lifestyle interventions for food related health problems, including obesity, diabetes and cardiovascular disease. Linzi's dream as a dietitian has always been using positivity to help others reconnect with their body's natural signals of hunger, fullness and satisfaction. She strives to empower others to eat joyfully, lose wight and relax into a healthy diet that's right for them based on their weight loss goals!
You may contact Linzi via email at linzi.cruz@bmioftexas.com