Personal Trainers for Weight Loss Patients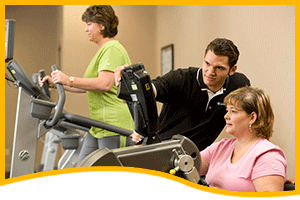 Our Exercise Physiologists will give you that extra edge to help you take your results to the "next level". Our staff uses the newest and highest quality equipment to train and monitor all our patients. You will learn how to work out efficiently and how to focus your energy to maximize fat burn.
We encourage all weight loss surgery patients to participate in this part of the program. The metabolic testing and the expert instruction can lead you to unimaginable places. There are many patients from BMI of Texas who have participated in marathons, triathlons and bicycle races after their weight loss surgery with the help of our exercise physiology staff. Whether you need to lose an extra 5 or an extra 50, our staff can make it happen. With the help of our exercise team, your results can be incredible!
To view our library of videos teaching you the proper ways to exercise, please click here! Be sure to check out our Resting Metabolic video to find out where your individual metabolism is!