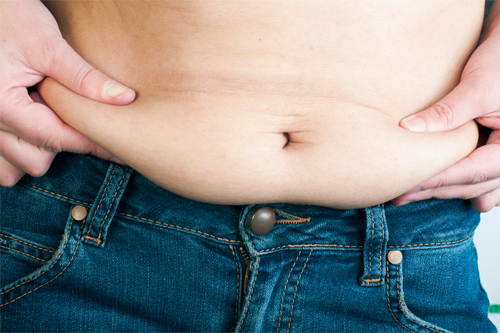 If you have lost a substantial amount of weight with the help of gastric bypass surgery or with dieting and exercise, congratulations! You have come so far and should be feeling great about your new, healthier body!
Problems with Loose Skin after Weight Loss
Unfortunately, you might also be facing a negative side effect of dramatic weight loss: loose skin. When you lose an excessive amount of unwanted fat, some muscle and water is also lost. The thought of dealing with excess skin after weight loss is a fear many people have; in fact, it sometimes becomes an excuse not to lose weight.
Loose skin often folds over itself, creating friction that results in infections and painful rashes. This most often occurs where the skin is loosest, including around the tummy, arms, hips, thighs and buttocks. In addition to excess skin's less-than-ideal appearance, these infections and rashes could be a primary reason you're hoping to learn how to tighten up.
It's important to know that loose skin after weight loss doesn't have to be permanent. Follow these five expert tips for excess skin removal.
Exercise to Tone Loose Skin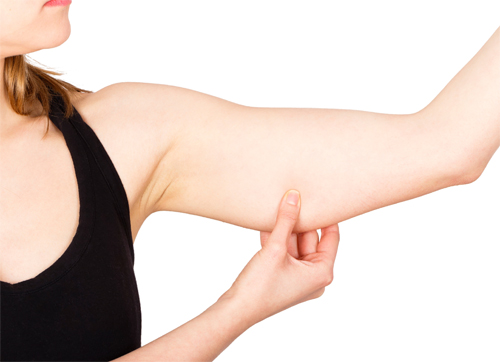 According to disabled-world.com, when you tone your muscles, you also tighten the surrounding skin. With this in mind, do strength training exercises three days a week. Your workouts should include:
Bicep curls to target loose skin on your arms
Crunches and other core workouts to tone the skin on your abs
Leg raises, squats and lunges to address sagging skin on your legs
You will also benefit from doing aerobics three days a week. Swimming, biking, jogging and even dancing help tone muscles across your body and help build endurance.
Disabled-world.com also recommends taking Vitamin C daily to encourage your body to produce collagen, a vital aspect of skin elasticity. Vitamin C pills and creams help to reduce the appearance of excess skin.
Evelle, an oral supplement for skin nutrition, is comprised of vitamins C and E, zinc, amino acids, and a variety of plant extracts to improve skin smoothness and elasticity. In a study published by the National Center for Biotechnology Information, Evelle increased skin elasticity by 9 percent after six weeks of use.
Stay Hydrated and Eat Healthy
Dehydration only makes loose skin worse, so maintain good fluid stores in your body by drinking at least eight cups each day. Water is ideal, but green tea, decaf coffee, water with Crystal Light, Powerade Zero (and other sugar-free beverages) plus the liquid in vegetables also count. Avoid dehydrating diuretics, such as soda, coffee and alcohol.
Eating nutritionally rich food makes every calorie count. Increase your intake of the following foods to help reduce excess skin:
Non-starchy vegetables and less sugary fruits, such as berries, for vitamins
Dairy foods high in protein to build muscle and tighten skin
Seeds, avocados, nuts and fish for healthy fats and oils to smooth and tighten skin
While implementing these expert tips, wear compression garments such as SPANX to compress excess skin on your tummy, hips, thighs and buttocks. You can find inexpensive, effective options at local retailers such as Target or Wal-Mart.
Seek Skin Removal Surgery
If these techniques don't work for you, consider an abdominoplasty or other skin removal surgery. Disabled-world.com recommends waiting two years following bariatric weight loss surgery before having a body contouring operation to ensure your weight has stabilized.
Your results depend largely on skin type, age, genetics and your skin's natural elasticity. While outcomes vary, you can always contact a BMI of Texas weight loss expert with questions about your specific situation.