BMI is proud to have one of the only advanced accredited minimally invasive Bariatric Surgery fellowships in South Texas. Surgeons from all over the country apply and compete for the opportunity to train at BMI of Texas. Our Fellowship is affiliated with the University of Texas Health Sciences Center at Houston and part of the Minimally Invasive Surgeons of Texas (MIST) program. Drs. Duperier and Englehardt serve as co-program directors of our fellowship which was started in 2006.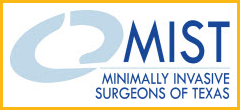 The Minimally Invasive Surgeons of Texas (MIST) Fellowship Consortium is a designated group of surgeons who promote the advancement of minimally invasive, laparoscopic, robotic, and endoscopic surgical techniques. MIST exists to enhance the development of the practices of its members through clinical program consolidation and to enhance the development of minimally invasive surgical fellowships of its members. The goal of the MIST fellowship consortium is to be the best training opportunity for fellows in the country. Through the University of Texas Minimally Invasive Surgery Fellowship experience with Dr. Erik Wilson, the fellows receive a broad bariatric surgical experience including robotics surgical experience with flexible endoscopy and advanced laparoscopic operative skills. This experience is enhanced with the recently completed Surgical Innovation and Robotics Institute facility.
Robotic experience – largest general surgery robotics experience in the world
Flexible endoscopy experience
Comprehensive bariatric program
Advanced laparoscopic surgery
Our Current fellow is: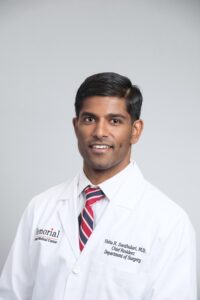 Past graduates include
Azam Farukhi, MD – Private Practice, Norman, OK
Punam Patel, MD – BMI of Texas, San Antonio, TX
Steven Udelhofen, MD – Private Practice, Cincinnati, OH
Mustafa Alibhai, MD – Private Practice Dallas, Texas
Asahel Gridley, MD – Ochsner Health System, Slidell, LA
Richard Englehardt, MD – BMI of Texas, San Antonio, TX
Chad Carlton, MD – Private Practice, Dallas, Texas
Jinnie Bruce, MD – Private Practice, Austin, Texas
Nilesh Bhoot, MD – Private Practice – Los Angeles, California
---
If you would like more information or have a question, please Contact Us Today.
Or watch a free seminar!
Why Pay More?
Gastric Sleeve Surgery can range drastically in price, but you aren't necessarily getting better service for your money. BMI of Texas's state of the art facility allows us to cost effectively provide this proceedure while providing top quality service.
Example of how our Gastric Sleeve Sleeve Pricing Compares to the Competition


| City | Cost |
| --- | --- |
| Dallas A | $13,400 |
| Dallas B | $11,000 |
| Houston A | $16,000 |
| Houston B | $14,300 |
| Houston B | $14,300 |
| Los Angeles A | $12,000 |
| Los Angeles B | $25,000 |
| BMI of Texas | $9,400 |
Know Your B.M.I
Your Weight Loss Options
Resource Center