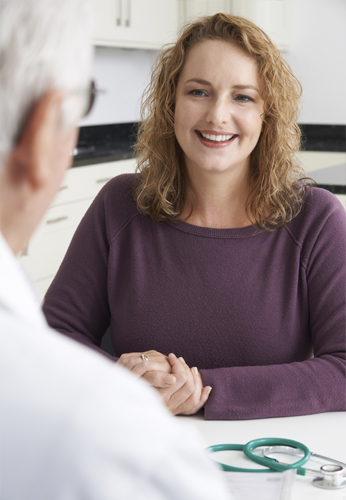 If you're thinking of working with weight loss surgeons to achieve a healthier weight, you're on the right track to a happier, healthier life. According to MedlinePlus, life after weight loss surgery includes these benefits:
Significant weight reduction
Improved health
Better quality of life
Prolonged lifespan
Before deciding to move forward with weight loss surgery, it's important to understand that this option is not an easy way out. It's a tool to help you eat less, but you still need to make good diet, exercise and lifestyle choices. Learn more about life after gastric bypass surgery to help you decide if it's the right choice for you.
Eating and Drinking Differently After Gastric Bypass Surgery
For the first two to three weeks after weight loss surgery, you'll be on a liquid food diet. You'll gradually add soft foods until you're eating all normal food by about six weeks post-surgery.
To begin with, you'll feel full after only a few bites. That's because immediately after surgery, your stomach can only hold about a tablespoon of food. Even once your stomach expands to its new maximize size, it will only hold one cup of chewed food, compared to a normal stomach that can hold four times that much. This means your portion sizes following surgery will shrink and require you to eat six small meals a day instead of three large ones.
It's important to chew your food slowly and thoroughly after weight loss surgery to prevent blocking the new, smaller opening into your stomach. Chew every bite 25 to 30 times. Even though your portions are much smaller, it should take you approximately 30 minutes to complete each of your meals.
Life after Gastric Bypass: Adopting a New Diet
After your gastric bypass surgery, weight loss surgeons will teach you what foods to eat and what to avoid for the best results. Your new diet will look something like this:
Lots of protein to keep your energy level up, promote muscle development from exercising, help you to stay full between meals, and prevent unwanted side effects like hair loss. Dairy, chicken, red meat, fish and beans are all excellent sources of protein.
Fat from sources like avocados, almonds, eggs, cheese and fatty fish. These types of fats are good for your digestive health and help to smooth and tighten any excess skin that may occur from rapid weight loss.
Fewer carbohydrates from bread, rice and other grain products. Reducing your glucose levels by maintaining moderately low sugar levels will promote your weight loss efforts and help you to avoid chronic diseases and depression.
Water, sugar-free water flavorings, decaf coffee or tea. Water is always the best option as it has weight loss benefits, helps to reduce the effects of loose skin and benefits your overall health.
No carbonated drinks, sugary beverages or alcohol. These fluids dehydrate your body, increase symptoms of dumping syndrome and induce insulin shock caused by the altered state of your intestinal tract.
You also need to drink eight cups of water every day. Try to take small sips every 10 minutes throughout the day. You should also avoid drinking during meals and for one hour after eating. Water washes food from your stomach and makes you hungrier, which increases your food intake and defeats the purpose of weight loss surgery.
Life after Weight Loss Surgery: Exercising to Speed Up Results
The most useful exercises are those that mimic everyday movements. They build muscle in the right places on your body, helping you to notice and appreciate your increased strength and range of motion from day to day. These exercises include:
Chest presses
Pushups
Bicep curls
Tricep extensions
Planks
Rows
Lateral raises
Back bridges
You can do these exercises with workout equipment in a gym or at home with dumbbells and resistance bands.
In addition to weight lifting exercises, you should also incorporate cardio workouts. The best option is to start a walking routine, whether outside or on an indoor treadmill. This is something you can begin prior to gastric bypass and continue for years to make life after weight loss surgery happy and healthy.
Want to learn more? The Education & Support Videos on BMI of Texas' website provide great instructions for dieting and exercising after gastric bypass surgery.
You might also be interested in: Do I Qualify for Weight Loss Surgery Quiz