At BMI of Texas, we believe in providing every safe and effective tool we have available in order to help patients overcome obesity and metabolic disease. This includes:
the latest in nutrition and dietary science
physical activity and exercise guidance
identification of medications which may be contributing to weight gain
diagnosis of diseases associated with excess body fat and optimizing therapy
optimization sleep quality and quantity
management of stress and other behavioral health needs
use of medications to help control appetite/cravings/metabolism
surgical intervention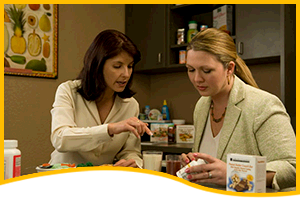 New medical weight loss patients are asked to attend a seminar led by Dr. Jenny Seger, in which she gives an overview of what led to our nation's obesity epidemic and explains the causes of obesity and outlines her treatment approach. The patient will then have a one on one appointment lasting approximately one hour with Dr. Seger during which she will review the patient's medical history, diet and lifestyle, complete a focused physical exam, have an EKG, and body composition using two different modalities: impedance and Dexa.
The patient will also have a 30 minute appointment with one of our registered dietitians who will help determine specific challenges for the patient when it comes to eating healthy and an individualized dietary plan will be provided which meets the patient's needs, satisfies his/her food preferences, and fits with his/her particular lifestyle challenges.
New Surgical weight loss patients will begin watching our free online seminar on this website or on our app which can be downloaded to your smartphone. The patient will then schedule a new patient appointment with a weight loss surgeon. This appointment will last about 1-1.5 hours. After a thorough history and physical examination, you and your surgeon will discuss which operation is best for you. You will undergo a series of tests including a dexa body composition scan. You will then meet with your patient advocate who will help you schedule any needed appointments and complete any requirements set forth by your insurance company. After this appointment you will have a clear idea of what needs to be done prior to surgery as well as an expected time line of events leading up to your operation.
---
If you would like more information or have a question, please Contact Us Today.
Or watch a free seminar!
---
Why Pay More?
Gastric Sleeve Surgery can range drastically in price, but you aren't necessarily getting better service for your money. BMI of Texas's state of the art facility allows us to cost effectively provide this proceedure while providing top quality service.
Example of how our Gastric Sleeve Sleeve Pricing Compares to the Competition


| City | Cost |
| --- | --- |
| Dallas A | $13,400 |
| Dallas B | $11,000 |
| Houston A | $16,000 |
| Houston B | $14,300 |
| Houston B | $14,300 |
| Los Angeles A | $12,000 |
| Los Angeles B | $25,000 |
| BMI of Texas | $9,900 |
Is Weight Loss Surgery Right For You?
Know Your B.M.I
Your Weight Loss Options
Resource Center