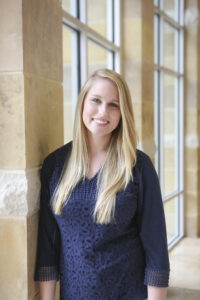 Miranda strives to provide patients with a new outlook on dieting and proper nutrition. With a focus on surgical and non-surgical weight loss therapy as well as general nutrition therapy, she specializes in providing counseling and nutrition education for those seeking to become healthier no matter their hurdles. She works hard to provide nutrition plans that fit realistically into the patient's schedule and lifestyle. Miranda is able to meet patients in their current situation and make practical change, with patient input, in order to improve diet plans, exercise routines and establish general healthy habits. Her practical approach encourages patients to make reasonable changes to their current lifestyle while still enjoying food and avoiding the feeling of depravity.
Miranda thrives on building strong, long-lasting relationships with her patients and will be available for assistance through every step of the journey. She also believes in the power that healthy lifestyle changes can have on patients' outlook and quality of life.
Miranda was born and raised in South Texas. She attended Texas State University in San Marcos, Texas and obtained a Bachelor's degree in Nutrition and Foods with a concentration in Dietetics in 2014. She then completed an extensive internship program that focused on many areas within the field of nutrition including experience in community, foodservice, clinical and private practice facilities. Miranda is planning to expand her education and credentials by obtaining certifications in Obesity and Weight Management as well as becoming a Certified Diabetes Educator. Miranda is always striving to further her knowledge and ability to promote wellness and prevent chronic illness.
You may contact Miranda at miranda.castillo@bmioftexas.com
Why Pay More?
Gastric Sleeve Surgery can range drastically in price, but you aren't necessarily getting better service for your money. BMI of Texas's state of the art facility allows us to cost effectively provide this proceedure while providing top quality service.
Example of how our Gastric Sleeve Sleeve Pricing Compares to the Competition


| City | Cost |
| --- | --- |
| Dallas A | $13,400 |
| Dallas B | $11,000 |
| Houston A | $16,000 |
| Houston B | $14,300 |
| Houston B | $14,300 |
| Los Angeles A | $12,000 |
| Los Angeles B | $25,000 |
| BMI of Texas | $9,900 |
Is Weight Loss Surgery Right For You?
Know Your B.M.I
Your Weight Loss Options
Resource Center