Brittany Martin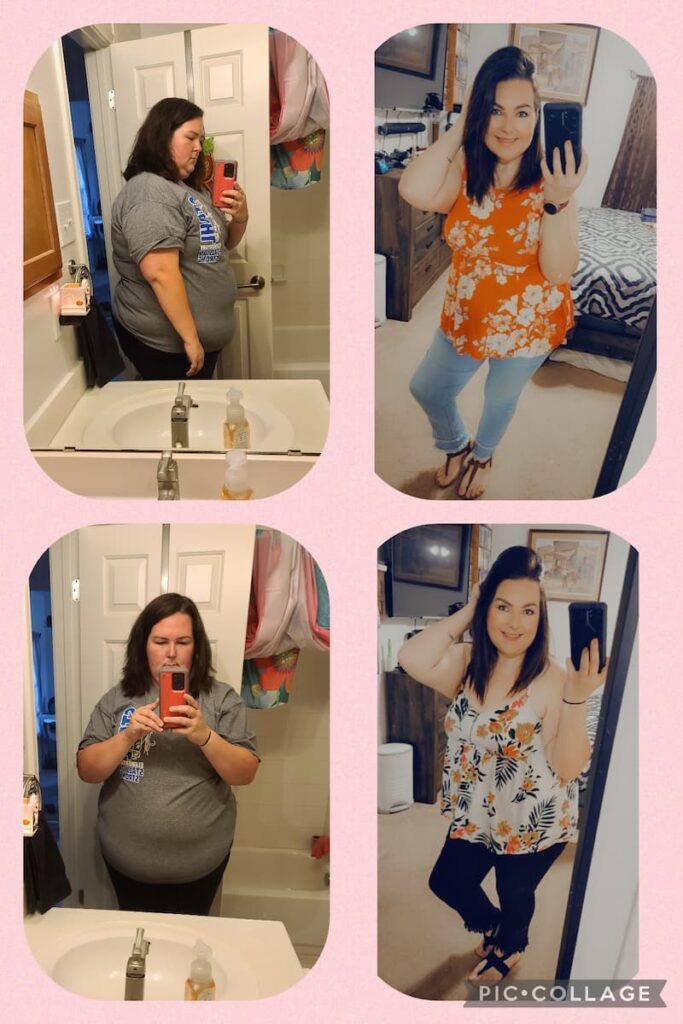 I started my weightloss journey with BMI's Medical Weightloss Program in Aug 2021. To say this was the best decision of my life is an understatement. They have changed my life for the better. In less than a year I have lost 97 pounds. To see that number is still insane to me. I honestly never thought I would get my life back to where I am now. The tools, support, and people are amazing. They stay with you every step of the way. Dr Jenny Seger is incredible and without her I don't know if I would have ever gotten my life back.
Rhonda Taylor
I started my journey with Dr. Jenny and the BMI of Texas Medical Weight Management program on June 3, 2021. I was on a downward spiral…. I gained so much weight, the heaviest I've ever been, in the last year partly due to COVID but more so because I put myself in a situation where helping out a "friend" became severely toxic – this put a strain on all my relationships and on me mentally. I am a stress eater, so I was eating everything that wasn't nailed down, constantly shoving food in my mouth. Carbs, sugar, more carbs, more sugar.
In March 2021, my primary doctor ordered bloodwork. I knew this wasn't going to be pretty and as suspected, my numbers were crazy, especially my A1c and glucose. For the past few years, my numbers were in the "pre-diabetic" range but now I was in "diabetic" range! Of course, my doctor wanted to put me on oral diabetic medication right away, but I asked for time to get my eating back on track and try to lower my numbers with nutrition. I did not and do not want to be married to a disease that I can control. I joined a local gym in 2019, but as I put on more weight it became harder to keep up. The pressure on my knees and lower back was insane. I kept telling myself that at least I was moving but exercise alone was not enough.
When I made the decision to seek medical help, I was embarrassed that I allowed myself to get to this point, but I was also determined! I cannot say enough about Dr. Jenny and the entire Medical Weight Management Team! I found it easy to really be honest about my unhealthy lifestyle because they truly care. I now have a better understanding of nutrition, how it effects the body and what works and doesn't work for me. The weight started coming off and I'm 40 plus pounds lighter!
I am proud of myself for recognizing that I needed extra support and walking through the doors of BMI of Texas. My workouts are still challenging but diet and exercise are the key to success. My hard work shows in the mirror but also in my bloodwork! Dr. Jenny gave me the foundation, encouragement, and tools to be the best I can be!
Lynnette
As I was fast approaching my 40th birthday, I was longing to lose the extra 30+ pounds that had slowly crept on since the birth of my kids. I began to wonder, was this weight gain just something that I had to except as I approached my menopausal years? That's when I decided to make an appointment with Dr. Jenny Seger. Dr. Seger helped me understand the science of nutrition and how eating the right types of food would not only help me reach my weight loss goal, it would also help shed the visceral fat that had slowly built up inside my abdomen. I was fascinated by the technology that she used to measure this type of fat and was very motivated to get my numbers within normal range for my health both inside and out! At that moment, losing weight was not just cosmetic for me…..it was something that I could do to reduce my chance of developing other health problems down the road – diabetes, cancer, heart disease, etc. In just the first month of following Dr. Seger's plan, I began to see results and was so proud to see the pounds beginning to drop. 4 months later, I am just a few pounds from my goal weight and couldn't be happier. What Dr. Seger has taught me as positively impacted my entire family (my kids and husband are eating much better these days) and for that I am forever grateful!
*Individual results may vary
Erica
When I first met Dr Jenny, I was desperate. I had tried to lose the "baby weight" from three pregnancies for a long time and had been unsuccessful. A lifetime of weight struggles had me feeling as if it was hopeless, that I would always be heavy. Dr. Jenny taught me new things about food, and not the same old thing I'd heard forever. She taught me the science behind food and our bodies. It was life changing, "Aha!" kinds of things! Understanding the why of it all really helped it click for me. Focusing on protein in my diet drastically changed my eating patterns and helped me realize that the way I'd been eating had been so wrong! Now, 40 pounds down, I feel like a new person. I'm more confidant and happy and truly do not struggle with food choices anymore. Dr. Jenny made it all click for me! Not only has she been a doctor to me, but I consider her a trusted friend and I am extremely grateful to her for changing the path of my future.
*Individual results may vary
Arnold
Prior to visiting with Dr. Jenny I was contemplating the gastric sleeve surgery but decided to learn more about Dr. Jenny's program. Upon my first visit with Dr. Jenny I weighed 268 lbs. and was taking 50 units of insulin each day for my diabetes. Dr. Jenny met with me for 3.5 hours to discuss my health history and provided me with nutritional information to review. The information helped me adjust my eating habits and provided suggestions on what foods to avoid. I visit Dr. Jenny every month to discuss my weight loss and set monthly goals. After 6 months, I have lost 30 lbs. and more importantly I am down to only 4 units of insulin per day for my diabetes. I look forward to continuing my weight loss journey with Dr. Jenny and her staff.
*Individual results may vary
Roger
I started seeing Dr. Jenny Seger about 8 months ago and since then I have lost over 60 pounds already. I feel better and am healthier than I have ever been before. I look forward to my workout routine as I never had before. I thought that giving up some of my favorite foods such as burger, fries, and chips would be impossible, but I can honestly say I don't miss them at all. The only regret I have is that it too so long to find out about Dr. Jenny and her weight loss program. I would recommend her to anyone. Thanks Dr. Jenny for helping me get my life back on track!
*Individual results may vary
Why Pay More?
Gastric Sleeve Surgery can range drastically in price, but you aren't necessarily getting better service for your money. BMI of Texas's state of the art facility allows us to cost effectively provide this proceedure while providing top quality service.
Example of how our Gastric Sleeve Sleeve Pricing Compares to the Competition


| City | Cost |
| --- | --- |
| Dallas A | $13,400 |
| Dallas B | $11,000 |
| Houston A | $16,000 |
| Houston B | $14,300 |
| Houston B | $14,300 |
| Los Angeles A | $12,000 |
| Los Angeles B | $25,000 |
| BMI of Texas | $9,900 |
Is Weight Loss Surgery Right For You?
Know Your B.M.I
Your Weight Loss Options
Resource Center