The robotic bariatric surgery technique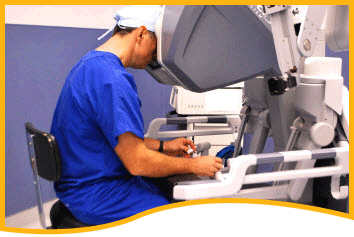 Robotic bariatric surgery is revolutionizing surgery as we know it. Particularly in fields such as urology and gynecology, laparoscopic robotic surgery has become commonplace. In general surgery and weight loss surgery, robotic techniques, such as laparoscopic robotic surgery, are still finding their way into the mainstream. At BMI of Texas, we utilize the robot with weight loss surgery and also for some complicated general surgery.
How robotic bariatric surgery works
The surgeon works from a remote station called a console, which is located several away from patient. In the console, the surgeon is able to view the surgical field in 3-D. Also, the station is equipped for the surgeon's hands to manipulate the robotic "hands." The surgeon's hand and finger movements are translated into real-time, precise movements of the robot "hands" operating inside the patient.
Benefits of robotic bariatric weight loss surgery
The use of the robot system allows for state-of-the-art, robotically assisted laparoscopic surgery, extending the visual field of the surgeon, enhancing dexterity, allowing for greater precision in movements, facilitating a greater range of motion of instrumentation and providing ergonomic comfort for the surgeon.
Please consider watching some of the robot videos in our video suite to learn more about robotic gastric sleeve surgery.
If you would like more information or have a question, please Contact Us Today.
Or watch a free seminar!
---
Our vision
We want to redefine health care by creating meaningful relationships and experiences with our patients and the community in order to overcome obesity and metabolic disease, fostering improved health and a better quality of life.
If you are like most people, you are probably extremely frustrated and tired of dealing with excess weight. You have probably tried every diet out there and perhaps had some success but just have not been able to achieve long-term weight loss. Our comprehensive program will give you the tools you need to lose the weight you want—and keep it off.
Because every patient is unique, we strive to design a customized program to meet the needs of each individual. Thanks to the expertise of obesity medicine specialist Dr. Jenny Seger, we have the unique opportunity to provide more complete weight management and wellness services than those available in other practices.
Our mission
BMI of Texas exists to provide innovative and comprehensive medical and surgical care to patients with obesity and metabolic disease. We are dedicated to creating an enduring partnership with patients in order to ensure long-term success. We are committed to providing such care in a supportive, compassionate and guilt-free environment.
When it comes to Texas obesity surgery, it is our goal to not only help you achieve your weight loss goals but to improve your overall health and quality of life. We look forward to partnering with you on your journey to a healthier you.
---
Why Pay More?
Gastric Sleeve Surgery can range drastically in price, but you aren't necessarily getting better service for your money. BMI of Texas's state of the art facility allows us to cost effectively provide this proceedure while providing top quality service.
Example of how our Gastric Sleeve Sleeve Pricing Compares to the Competition


| City | Cost |
| --- | --- |
| Dallas A | $13,400 |
| Dallas B | $11,000 |
| Houston A | $16,000 |
| Houston B | $14,300 |
| Houston B | $14,300 |
| Los Angeles A | $12,000 |
| Los Angeles B | $25,000 |
| BMI of Texas | $9,900 |
Is Weight Loss Surgery Right For You?
Know Your B.M.I
Your Weight Loss Options
Resource Center