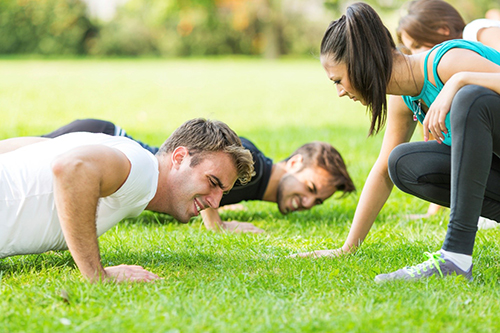 Did you know that the adult obesity rate for Bexar County dropped from 35 percent to 29 percent between 2010 and 2012? Government programs, community organizations and private agencies have come together to help promote a healthier San Antonio that is focused on nutrition, fitness and active living. Some of the most notable San Antonio programs include:
¡Por Vida!
Created by the city of San Antonio, ¡Por Vida! is a campaign aimed at recognizing restaurants that promote healthier food choices. The campaign's nutritional guidelines were established by the Healthy Restaurants Coalition with support from the San Antonio Dietetic Association. The ¡Por Vida! campaign focuses on a balanced diet consisting of vegetables, fruits, lean protein, whole grains and low-fat dairy. There are also specific guidelines aimed at beverages and children's meals. Both San Antonio residents and visitors to our fair city can be confident in choosing healthy dining-out options thanks to the ¡Por Vida! campaign.
San Antonio Farmer's Market Association
If you are looking for health food stores in San Antonio, the San Antonio Farmer's Market Association operates year-round markets throughout the metropolitan area and supports the locavore movement. For more than 20 years, the market has offered farm fresh produce and organic food in San Antonio. The farmers who work with the market are committed to locally grown organic produce that reflects the diversity of southwest flavors. A wide variety of fruits and vegetables are picked at the peak of freshness and offered to market shoppers in a matter of hours. You can guarantee the San Antonio Farmer's Market Association is delivering the freshest and healthiest produce available to our local markets.
Mayor's Fitness Council
San Antonio Mayor Julian Castro created the Mayor's Fitness Council in 2010 to help promote health and fitness throughout the city. The Fitness Council is made up of many different agencies and committees that are working together to impact active living, nutrition, healthy schools, workplace wellness and lifelong fitness initiatives. Some of its most popular initiatives include Fitness in the Park, Healthy Schools Summits and Neighborhood Nutritional Education.
Texas A&M Agrilife Extension
The Agrilife Extension team from Texas A&M is working to increase access to healthy food in San Antonio while also eliminating food deserts. The team partnered with a variety of community organizations, including 4H and the Boys and Girls Club, to implement educational programs and increase access to healthy foods throughout the metropolitan area. One of its most successful projects was designed to help a group of teenagers at the San Antonio Boys and Girls Club Teen Center build 15 raised vegetable beds, plant and tend the seedlings, and then harvest the fruits and vegetables.
Children's Hospital of San Antonio
The professionals at Children's Hospital of San Antonio are dedicated to improving the health of every family in the city. They understand that a holistic approach to child wellness benefits children, their families and the community as a whole. As part of the hospital's health and education program, staff have partnered with others in the community to raise awareness of nutritional health. The First Children's Hospital Teaching Kitchen was designed by professionals at the Culinary Institute of America (CIA) and offers hands-on cooking and nutrition lessons designed by CIA chefs and the hospital's nutritional experts. "Prescriptions for Produce," created with the help of the H-E-B chain, allows physicians to write prescriptions for produce that can then be redeemed at any of San Antonio's H-E-B grocery stores.
There are a variety of organizations and agencies throughout the San Antonio area committed to increasing our community's health. We encourage you to look for ways to interact with and benefit from these innovative opportunities. For more information on healthy living, visit our BMI of Texas blog page.
You might also be interested in: Celebrate a Local-Centric Thanksgiving This Year