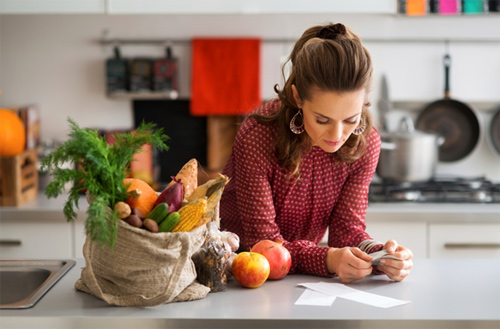 There's no need to dread the holidays as long as you have a healthy eating plan in place. Even a feast like Thanksgiving has plenty of alternative, low-carb recipes to get creative with. When planning your menu for the big day, consider these tidbits of advice to keep you on track to meet your weight loss goals.
Don't skip the sauces
You may frown at the idea of passing up gravy and cranberry sauce, but take heart: Even these can be made carb-friendly! This roasted turkey and pan gravy recipe uses no flour, so you can indulge without the guilt. Meanwhile, this sugar-free cranberry sauce uses sugar substitute, meaning you don't have to miss out on any of the tangy goodness that pairs so well with turkey.
Start off right with healthy appetizers
Appetizers can often throw a healthy eating plan off track—but they don't have to! Rather than munching on potato chips or pretzels while watching the big game, enjoy a healthy bowl of Brussels sprouts chips for that satisfying crunch. Follow these with Brie and bacon tartlets, a delectable snack that calls for almond flour to keep carbs low, and lead into dinner with the always healthy hit of stuffed mushrooms. You can be sure that these apps will have your guests eager and ready for the main course.
Pile on the low-carb sides
Stuffing and mashed potatoes are an obvious no-no when sticking to a low-carb diet—but there are plenty of delicious alternatives! For instance, this grain-free low-carb stuffing is a savory alternative to traditional stuffing, while a bowl of flavorful mashed cauliflower will likely disappear before you know it! You can even combine the versatile cauliflower with butternut squash in a dish like this butternut squash cauliflower casserole. Still steering clear of starch, cream of spinach is a rich, savory and satisfying alternative to yams and other carb-heavy sides.
Green it like you mean it
A healthy Thanksgiving dinner would be nothing without plenty of green veggies. Instead of making a green bean casserole, sauté fresh green beans in a little garlic and olive oil, then top with caramelized onions. Brussels sprouts take on a whole new life when they're roasted; just cut them in half and toss them on a baking sheet with a little oil. Roast your sprouts in the oven while your turkey is resting prior to being carved. Remove from the oven, sprinkle with pinch of salt and pepper and enjoy. For a truly impressive and delicious side, try this roasted asparagus wrapped with ham.
Top things off with a satisfying dessert
What would Thanksgiving be without dessert? Don't make the mistake of thinking that a low-carb diet means skipping this highly-anticipated course all together! This pumpkin spice cake with brown butter frosting will leave your sweet tooth satisfied, as will this healthy pumpkin pie custard that doesn't need a carb-heavy crust to deliver all the flavor of a traditional dessert.
The right healthy Thanksgiving recipe will leave you feeling both satisfied and proud— even a feast that's traditionally loaded with carbs doesn't have to knock your healthy holiday eating plans off track!