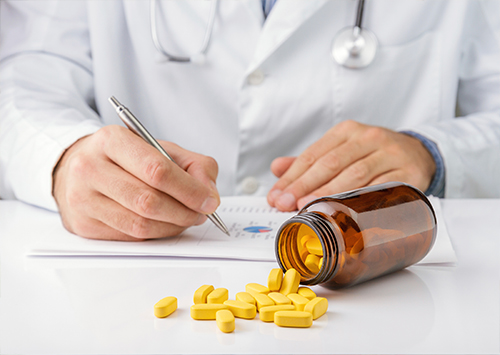 After receiving your gastric sleeve or bypass surgery at our weight loss clinic in San Antonio, you'll discover that you feel fuller after eating smaller meals, and you'll also stay full longer. By consuming less, you lose weight gradually and safely, and keep it off for a lifetime.
Of course, eating less means you have fewer opportunities to get the nutrients your body needs to stay healthy. That's why it's imperative to supplement your diet with post bariatric vitamins from now on. Here's everything you should know about taking vitamin supplements after weight loss surgery.
Essential vitamins you need
Bariatric vitamins: BMI of Texas recommends the complete nutrition provided by chewable Bariatric Fusion vitamins. They come in five flavors: mixed berry, orange cream, strawberry, tropical and wild cherry. Bariatric Fusion is essentially a multivitamin with the ideal daily amounts of important nutrients for post-weight loss surgery patients. The most prominent vitamins found in Bariatric Fusion include vitamins A, C, D, E, B6 and B12; thiamine, calcium, iron, zinc and many others.
Multivitamins and more: If Bariatric Fusion doesn't work for you, try taking the complete multivitamin suggested by BMI of Texas, such as Thorne, or regular over-the counter multivitamins in conjunction with calcium and vitamin D, Iron and vitamin B12.
How often to take postop vitamins
It's safe to take multivitamins daily at any time with your doctor's permission. In fact, Bariatric Fusion is designed to be taken pre-operation as well as after your weight loss surgery procedure. The recommended doses are as follows:
Bariatric Fusion pre-op: Chew one tablet daily.
Bariatric Fusion post-op: Chew two tablets in the morning and two in the evening for a total of four tablets daily.
If you decide to take regular multivitamins paired with other supplements, follow this recommendation:
Multivitamin: Take two tablets daily.
Calcium plus vitamin D: These vitamins are often paired together in supplements. Take 1,600mg of calcium plus vitamin D daily.
Vitamin B12: You can take this vitamin daily in pill form, weekly in the form of a nasal spray or monthly as an injection.
Iron: some may need an additional 30 mg of Iron.
Talk to your doctor about what supplementation works best for you!
Benefits of vitamins after receiving a, weight loss surgery in San Antonio
According to Navy Medicine, taking vitamins after weight loss surgery helps patients in the following ways:
Regulates the metabolism: The metabolism breaks down food and releases energy into your body. According to Better Health Channel, a regulated metabolism keeps your energy levels stable and repairs damaged cells as needed for a healthier body.
Improves the release of energy from digested food: By getting some nutrients from the food you eat and taking tablets as a supplement, all the vitamins you ingest work together at their peak. For example, according to a PubMed.org publication, calcium absorption depends on the presence of vitamin D. If you take vitamin D supplements, any calcium you get in your diet is more likely to be absorbed.
Prevents vitamin deficiencies: Avoid problems such as anemia, osteoporosis, heart problems, immune system trouble and hair loss by taking vitamins daily for the rest of your life. This is the most important reason to take vitamins post weight loss surgery. Deficiencies are very common and can be easily prevented with the use of daily vitamins.
Best places to buy post-bartiatric band vitamins
BMI of Texas office: We sell Bariatric Fusion at our office to make securing the right post-weight loss surgery vitamins easy.
Bariatric Fusion website: You can purchase the chewable supplements in whatever flavor you prefer from the official website.
Drug and grocery stores: If you prefer to compare labels in person, local San Antonio drug stores are a great place to buy weight loss surgery vitamins. Be sure to ask your weight loss surgeons which brands and amounts they recommend.
To learn more about having weight loss surgery in San Antonio, please contact the weight loss surgeons at BMI of Texas today.