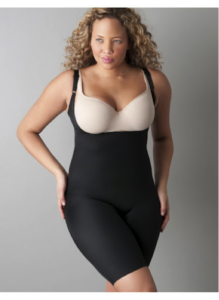 If you're familiar with pre-1970s shapewear, you know about iron and whalebone corsets that crushed ribs, restricted breathing and caused fainting. Fortunately, today's body shapers for weight loss are nothing like the old days. They're comfortable, effective and natural-looking under your favorite clothes.
Shapewear is the perfect foundation garment to smooth out bumps and accentuate your curves. Body shapers also keep clothes from clinging and make you feel more confident in your body. If you're interested in shapewear for weight loss to help you look your best while pursuing your weight loss plan, here's a guide to help you find the right products.
Types of shapewear for weight loss
From tightly woven fabrics to strategically placed elastic, you can find the perfect shapewear to hide imperfections. Consider the range of shapewear available today to help you choose the right style.
Light control shapewear comes in the form of seamlessly knit hosiery to smooth over your thighs, hips, rear and tummy. It's a flexible option that feels nothing like wearing a corset.
Firm control shapewear takes the form of sturdy fabrics sewn together. The seams catch bulges and shift them into less noticeable places. A firmer control waist shaper for weight loss results in a more sculpted looking body shape, but more restricted movement as well.
Thermal shapewear is even available to help you lose weight while contouring your body. It stimulates perspiration around your midsection to help get rid of pesky water stores at your waistline. You'll notice a slimmer waist from the shapewear's compression and enjoy long-term weight loss assistance with the thermal feature as well.
It's just as easy to don a body shaper for weight loss as it is to put on a new pair of underwear, but in order to see the results you want, it's important to keep a few things in mind as you shop. Here are three steps to follow when shopping for shapewear:
Step 1: First, pinpoint which trouble area you want to control. Shapewear for weight loss targets everything from your thighs and hips, your tummy and waist, to your bust line and upper back. Bodysuits target everything all at once.
Step 2: Speak up when being fitted with new shapewear for weight loss. If you experience any pain, numbness or difficulty breathing, you need a larger size. You're looking to tighten up without feeling extremely uncomfortable.
Step 3: Keep the type of fabric you want in mind. For example, breathable fabric is perfect for summer while thermal shapewear is more comfortable in winter. High spandex content around 25 percent is also desirable if you want stretchy fabric. The edges of the shapewear are important when it comes to providing a seamless, natural look. Edges with silicone gripper tape stay in place and lace edges don't roll or bulge.
Businesses that cater to all body types
If you're still in the process of losing weight, you probably want to purchase some excellent body shaping undergarments until you reach your goal. That means you need to find businesses that offer shapewear for plus-size women.
Whether you're shopping locally in San Antonio or getting an idea of what's available online, consider doing business at these locations that cater to plus-size shoppers:
In the end, you shouldn't abandon diet and exercise just because you found a good body shaper for weight loss. There's no substitute for the health benefits that come from eating well and staying physically active. Although we understand that everyone wants to feel confident and look good, it's even more important to feel good on the inside by sticking to a healthy weight loss plan and living a fit lifestyle.
For more help accomplishing your weight loss plan, please contact BMI of Texas today.