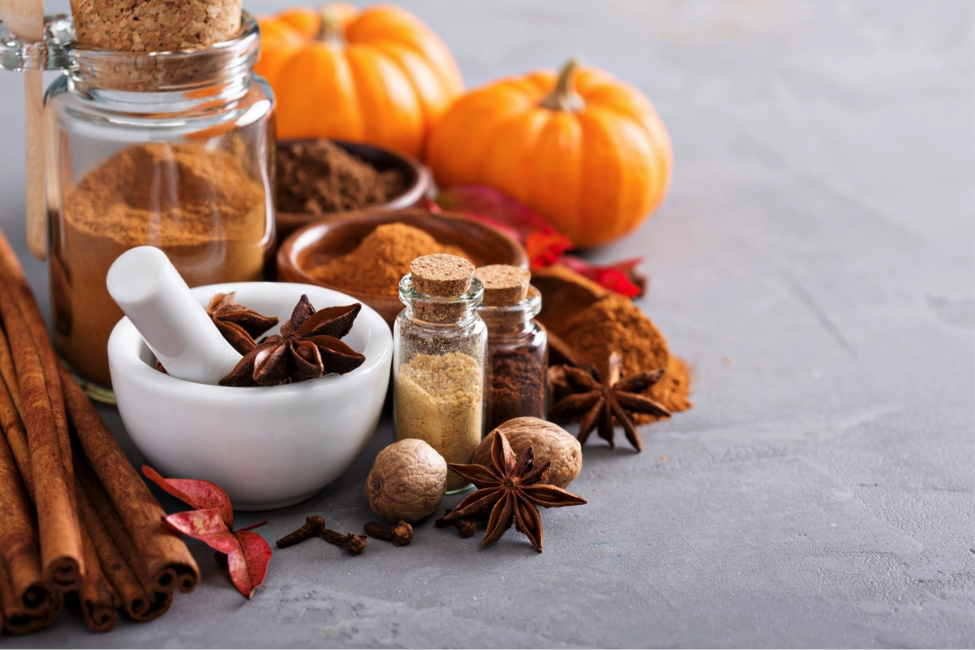 Now that fall is here, everyone is ready to eat pumpkin, which is one of the season's most iconic symbols and flavors. Luckily, there are some great, healthy recipes with pumpkin, spice and everything nice!
Pumpkin has a naturally sweet taste and creamy texture, and also offers a wide variety of health benefits. It has lots of fiber, which slows down your digestion and helps you feel full for longer.
Try the following healthy pumpkin recipes to get a true taste of fall along with some great nutritional benefits: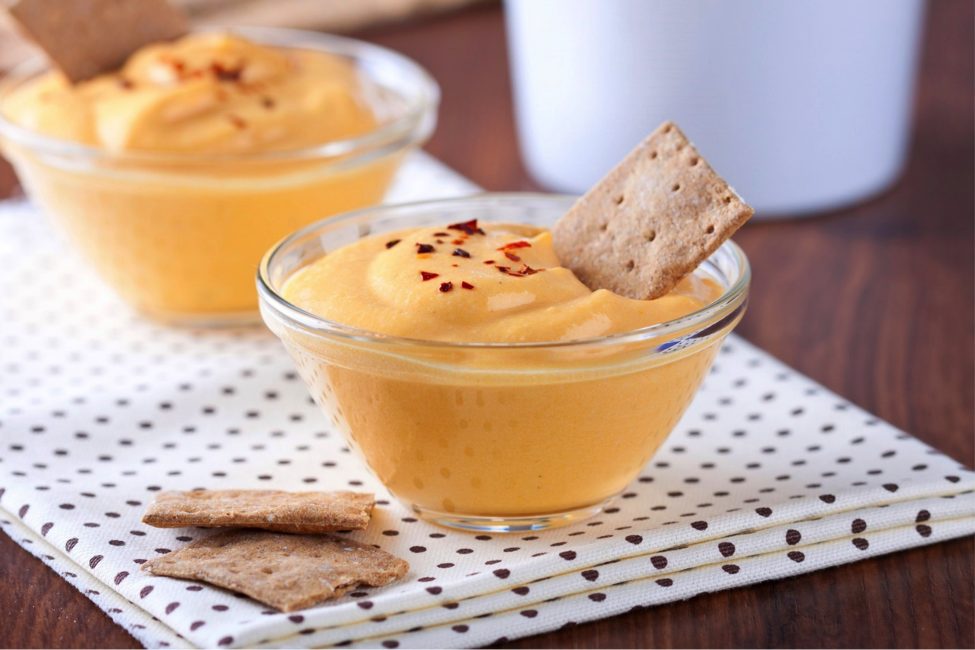 Pumpkin Dip
From health.com
Ingredients
¾ cup (6 ounces) full fat cream cheese
½ cup swerve sweetener
½ cup canned pumpkin
2 drops maple syrup flavored extract
½ teaspoon ground cinnamon
24 apple slices
Instructions
Put cream cheese, swerve and pumpkin in a bowl, and beat with a mixer at medium speed until blended well. Add extract and cinnamon and beat until smooth. Cover and chill for at least 30 minutes. When you're ready to snack, feel free to dip with vegetables.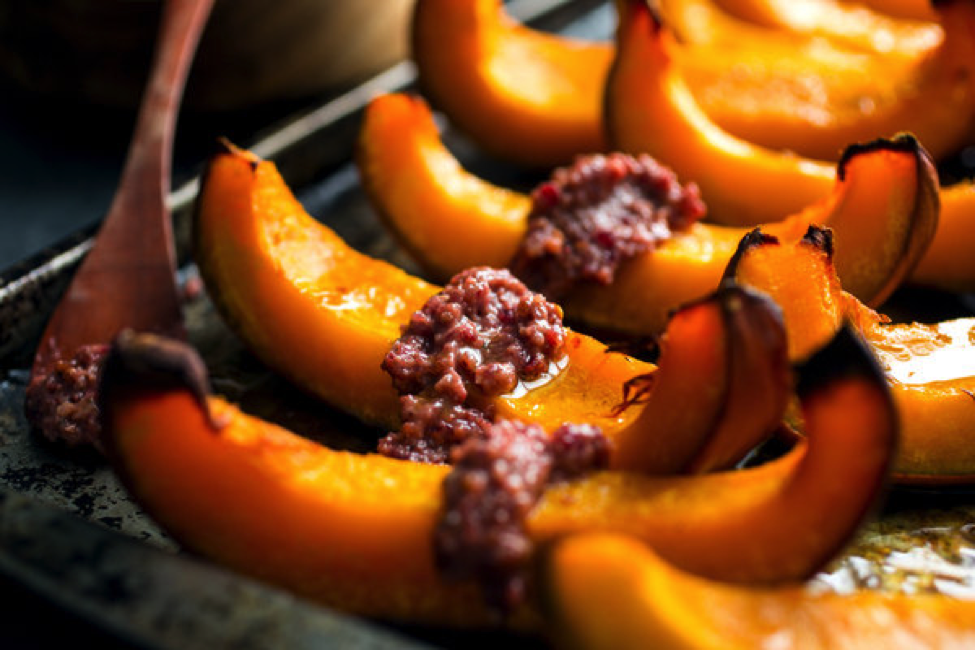 Oven Roasted Pumpkin Wedges
Ingredients
1 cup natural orange juice
1 cup grapeseed oil, divided
1 ½ cups whole pecans – unsalted
2 teaspoons red chili flakes
½ teaspoon fresh thyme leaves
Kosher Salt
4 ½ – 5 pound pumpkin
Instructions
First you'll make the pesto by combining orange juice and half of the grapeseed oil. Let it soak in a bowl as you prepare the rest of the ingredients. For about three to four minutes, dry roast the pecans in a skillet until they become fragrant. Remove them to cool and toast the red chili flakes in the same skillet for one minute.
Next, use a food processor to mix the cranberries and orange juice. You'll then add the chili flakes, thyme, and three-quarters of the pecans until the mixture is smooth. For some crunchy consistency, add the rest of the pecans and pulse a couple of times. Season with the salt and set aside.
As you slice open the pumpkin into 1 ¼ wedges and remove seeds and fibers, preheat the oven to 325 degrees. Brush the wedges with the other half of the grapeseed oil and sprinkle salt. Finally, place the wedges on a rimmed baking sheet and cover with foil.
For 90 minutes roast the wedges and then remove the foil and roast for another 20-30 minutes at 375 degrees. Once the wedges have caramelized, allow them to cool and then serve with pesto!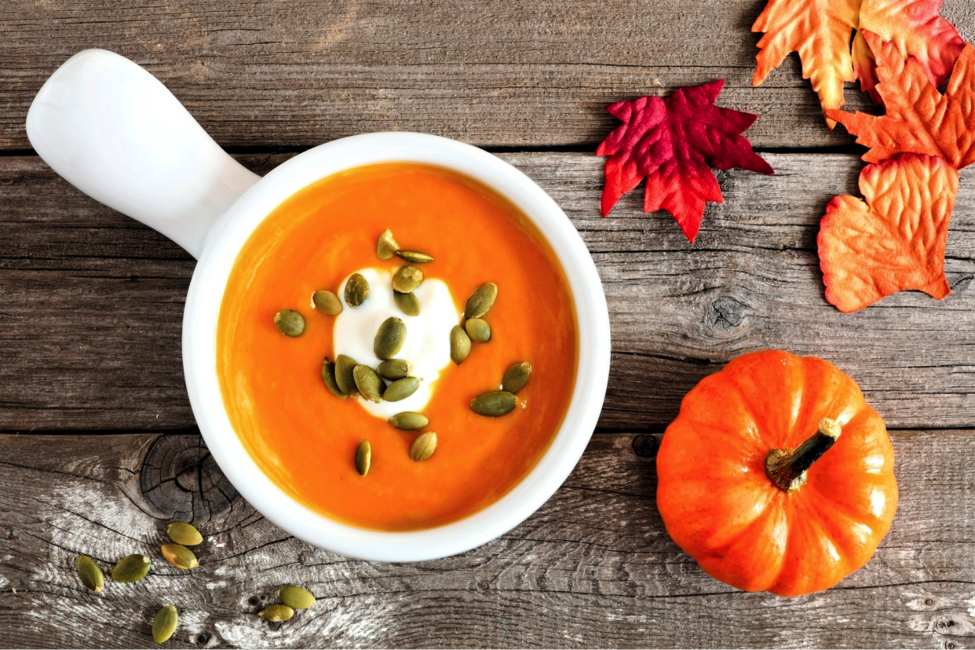 Pumpkin Soup
From Mayo Clinic
Ingredients
¾ cup water, divided
1 small onion, chopped
1 can (15 ounces) pumpkin puree (or make your own)
2 cups unsalted vegetable broth
½ teaspoon ground cinnamon
¼ teaspoon ground nutmeg
1 cup of heavy cream
1/8 teaspoon black pepper
1 green onion top, chopped
Instructions
Heat ¼ cup water over medium heat in a large saucepan. Add the onion and cook until tender (but not dry) – about 3 minutes.
Add remaining water, pumpkin, broth, cinnamon and nutmeg. Bring to a boil, reduce heat and simmer for 5 minutes. Stir in the heavy cream and cook until hot, but don't let the mixture boil.
Finally, ladle the soup into some warmed bowls and garnish with black pepper and green onion tops.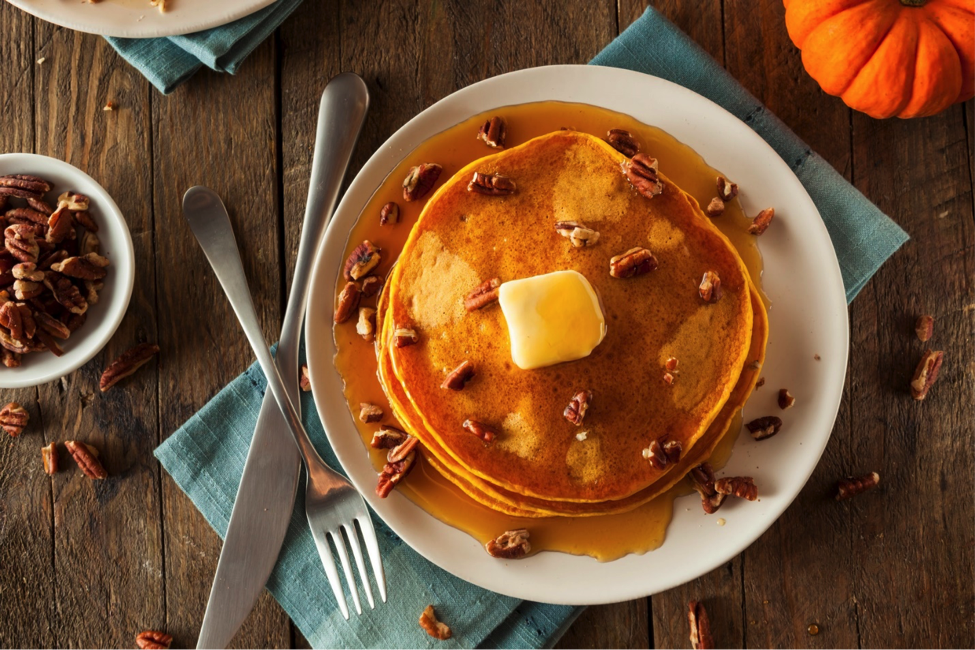 Pumpkin Pecan Pancakes
From skinnytaste
Ingredients
1 cup of almond flour
2 teaspoons baking powder
¼ teaspoon salt
½ teaspoon cinnamon
1 teaspoon pumpkin pie spice
1 cup buttermilk
3 large egg whites
¼ cup canned pumpkin
2 tablespoons pure maple syrup
1 teaspoon vanilla
2 teaspoons oil
3 tablespoons chopped pecans
Cooking spray
Sugar-free whipped cream topping (extra)
Directions
Mix the first 5 ingredients in a bowl.
Combine buttermilk, egg whites, canned pumpkin, 1 tablespoon maple syrup, oil and vanilla in a bowl, and mix until smooth. Then, combine the wet ingredients with the dry. Mix these well with a spoon until there are no more dry spots, and then fold in pecans. Don't overmix.
Once you've combined these ingredients, heat a large skillet on medium-low heat. Spray oil to lightly coat, and pour in ¼ cup of pancake batter. When the pancake starts to bubble and the edges begin to set (about 2 minutes) flip the pancakes and cook an additional 1 ½ to 2 minutes. Repeat this process with the remainder of the batter. Don't forget to top the sugar-free whipped cream topping!
For more information about healthy recipes with pumpkin and other fall ingredients, contact BMI of Texas.
You might also be interested in: Holiday Tips and Tricks To Keep Your Weight Loss Efforts