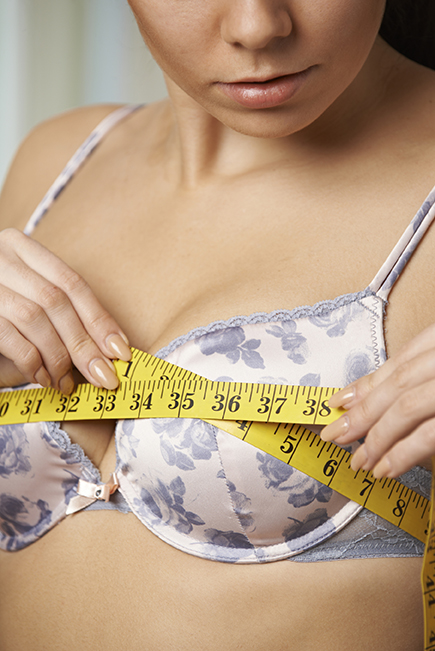 No woman wants to be stuck wearing an ill-fitting bra, but attaining bust comfort is easier said than done, especially for full-figured women. Regardless of your body shape, it's vital you find the best support bra for full figure to allow for proper blood circulation and adequate support. According to women's beauty and fashion magazine The Gloss, 85 percent of women are wearing the wrong bra. And of these women, plus-size gals have the most trouble finding the right cup size.
Problems with Finding a Bra
The makers of EmbraceBra detailed some of the problems you might be experiencing as you shop for a bra:
Pressure: Tight bands painfully dig into your skin and compress your rib cage. They also restrict blood circulation, which could damage breast tissue. If you've ever felt pins and needles in your chest, your bra is too tight! Since straps bear the weight of your breasts, they can dig into your shoulders and create neck and back pain.
Moisture problems: Finding a sports bra has its own unique challenges because of the excess moisture your body produces while working out. Unless you have a proper fit, sweat can cause irritating friction or make your bra slide out of place.
Conflicting cup sizes: HerRoom.com points out the variations in cup sizes for bras larger than size D. Depending on the brand, DDD can be the same as E and F cups. An H cup in one brand could be three sizes smaller than an H in another brand. It's no wonder full-figured women often have such a hard time finding the right bra!
Bra Sizing Tips
So, how do you find out what bra size you need? Use these measuring tips from Bare Necessities:
Measuring band size
You have two options for measuring your band size. For the best results, you should use both approaches:

The traditional measurement is to measure straight across your rib cage, directly below your bust. Round up to the next even number. This is your band size.
Wrap a measuring tape around your torso, right under your arms. Bring the two ends up across the middle of your chest, above your breasts. Again, round up to the next even number to validate your first band size measurement.

Measuring cup size
Cup size is more subjective and may require a professional fitting for the best results. Still, if you need a starting point, here's how to measure it yourself:

Hold a measuring tape straight across your back and bring the two ends to the front. Loosely measure around the fullest part of your bust. Round up to the nearest inch.
Subtract this number from the band measurement you took earlier. The difference corresponds with your cup size. For example, if your band measurement is 42 and your cup measurement is 46, the difference is 4, which indicates a D cup. Visit Bare Necessities' webpage to see their size conversion chart.
Websites with Full Figure Bras
When it comes to purchasing bras online, you have plenty of options:
With these tips, you should know how to choose the right bra for the best health and comfort possible. For more helpful advice, contact BMI of Texas and learn how bariatric surgery can reshape your life!