Are you afraid that your diet will force you to miss out on your favorite holiday treats this year? Well, don't fret, because we're here to help with six gluten- and guilt-free Christmas cookie recipes that allow you to get your cookie fix without excessive sugar and carbs. Each recipe is low-carb and gluten-free, and the best part is that your non-calorie-conscious friends won't be able to tell that your cookies are a healthier alternative to the normal high-calorie, sugar-packed variety.
Low Carb Snowball Cookies: Let it snow this Christmas with these powdered, walnut snowball cookies. They are delicious, beautiful and easy to make. Mix almond flour, coconut flour, chopped walnuts, cardamom, salt and baking powder. Then bake at 325 degrees. Finish them off by coating your warm cookies in your choice of artificial sweetener. These gluten-free Christmas cookies are so adorable and festive that none of your guests will mind taking a hit from one of these snowballs.
Low-Carb, Gluten-Free Snickerdoodles: Don't let health concerns or dietary restrictions keep you away from the cookie classics! This snickerdoodle has the same light texture and buttery cinnamon sugar flavor that make the cookie an all-time favorite, making it one healthy cookie recipe that you absolutely must try. It includes all of the traditional ingredients except it calls for almond flour and a sugar substitute. Once you have baked the cookies, you will need to cool them for 20 to 30 minutes. Afterward, you can store them in a plastic container for several days, and enjoy them at your leisure.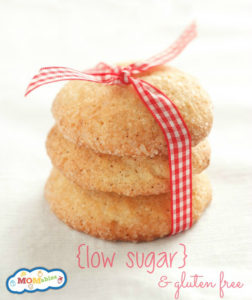 George's Low Carb Cinnamon Crisps: Who doesn't love cinnamon? Treat your guests with these mouthwatering crispy cookies that require very few ingredients to make. All you will need is almond flour, Splenda, egg whites, a teaspoon of salt, cinnamon and vanilla. For the topping, set aside some granular Splenda and cinnamon. Simply mix all of the ingredients, minus the toppings. Next, divide your dough and set it on a baking sheet. Use plastic wrap to cover the balls. Bake them at 350 degrees, or until they are golden brown. Cool completely in a stored airtight container at room temperature.
No-Bake Almond Butter Bars: These delightful treats are a little different. They're great for when you are looking for a low-carb and gluten-free cookie, but don't have the time or energy to bake. Combine your almond flour, coconut and sweetener in a bowl, and melt almond butter and coconut oil in a separate pan. Once it's melted, add the almond butter to your dry ingredients and mix them all together. Refrigerate and cover the mixture, and let it set for at least two hours. Remove and cut into 12 even bars. Reminiscent of your favorite chocolate peanut butter bars, you might have a hard time believing that you're not cheating on your diet!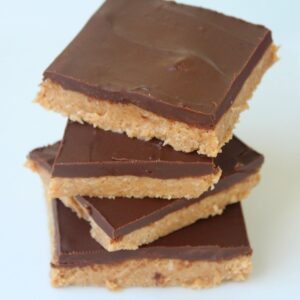 Almond Flour Bonbons: Just because your cookie recipe is low-carb and gluten-free, doesn't mean that it can't also be delectably soft and chewy. This recipe can also be whipped up in about a half-hour, and is great to keep on hand for unexpected holiday guests. Preheat the oven to 325 degrees. Mix flour, egg whites, baking soda, salt, lemon juice and stevia together. Roll 14 dough balls and flatten them slightly with your palm. Sprinkle them with fine ground coconut flakes and then place them on a baking sheet that's covered in parchment paper. Bake the cookies for 20 minutes or until they are firm.
Cranberry Ginger Butter Cookies: These gluten-free, low-carb cookies are perfectly crisp with a combination of sweet and tart flavors that really stands out. These cookies also freeze well, so make a few batches ahead of time and simply pull them out to thaw shortly before your guests arrive. Whisk almond flour, baking powder and salt together. Separately beat your butter with erythritol until it's lightly fluffy. Beat eggs into the mixture, add almond flour and stir in the chopped cranberries and ginger. Form the dough into balls and place them 1 inch apart on a baking sheet. Press the cookies to ¼ inch thick, and then pop them in the oven for 11 to 13 minutes.
Whether you plan to bring a covered dish to a festive office party or host your own Christmas gathering, these six healthy cookie recipes allow you to enjoy your fair share of delicious holiday treats, which is part of what the holidays are all about. We would like to point out that low-carb treats are okay in moderation, but it's important to keep in mind that continuous consumption overtime can significantly increase your overall carbohydrate intake. For more healthy and delicious recipes visit BMI of Texas' Pinterest Page