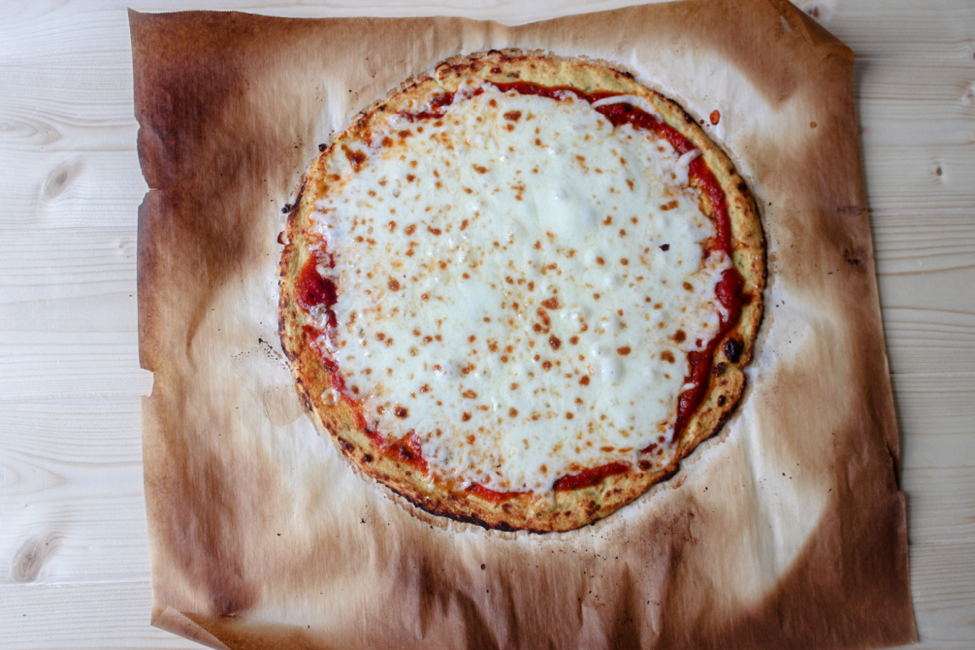 April showers bring May flowers – not to mention rainy days that tempt you to snack on junk food and binge-watch Netflix! Here are some healthy, low carb food recipes to satisfy your rainy-day urges and keep you on track.
Light lunch for two: Tuna Salad in Tomato Cups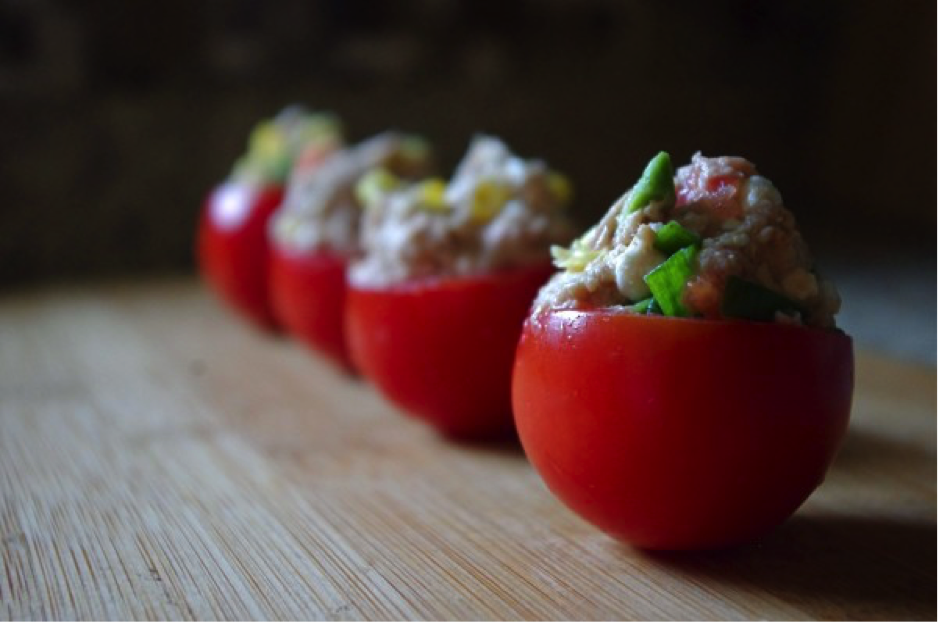 If you love tuna salad but you want to stick with low carb foods, you may be looking for creative ways to eat it without bread or crackers. Fortunately, bread is far from the only thing you can use to build a sandwich. Whip up a light tuna salad using low-fat mayo and stuff it inside a tomato. A unique Asian twist adds fun flavors you're not used to experiencing with tuna salad.
Shopping list:
1 can (6 ounces) light water-packed tuna, drained and flaked
5 tablespoons (light) mayonnaise
1/4 cup chopped celery
2 tablespoons chopped green pepper
1 tablespoon finely chopped onion
1/2 teaspoon lemon juice
1/2 teaspoon soy sauce
Dash white pepper
Lettuce leaves
2 medium tomatoes
1/3 cup chow mein noodles
Get the full recipe here at Taste of Home.
Afternoon snack for one: Cucumbers with Ranch Greek Yogurt Dip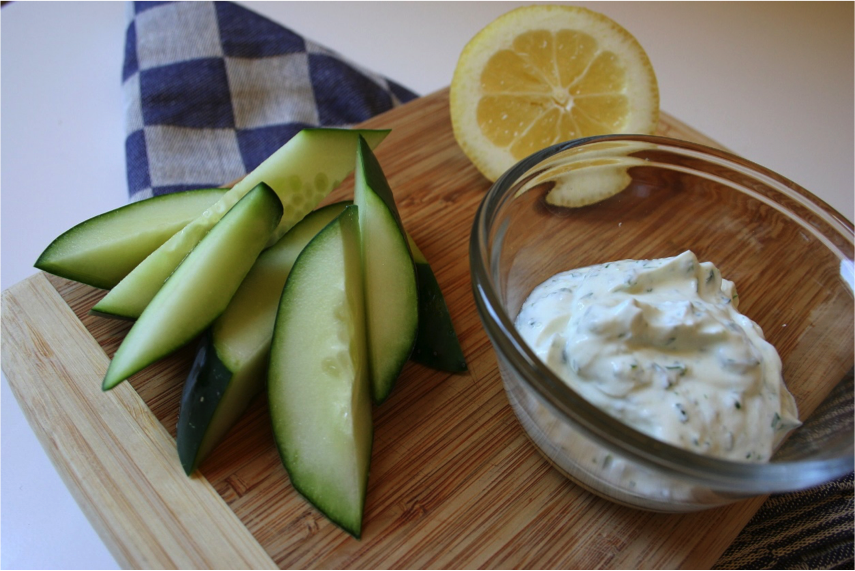 When you crave a satisfying ranch dip, don't reach for the high-fat, store-bought kind. Instead, make your own and serve it with cucumbers or your other favorite raw veggies for a refreshing, low carb snack.
Shopping list:
1 to 2 cucumbers (or other fresh veggies), cut into 1/2 inch wedges
1 clove garlic
Salt to taste
1/2 bunch chives, thinly sliced
1/4 bunch flat-leaf Italian parsley, chopped
Lemon juice to taste
1 container (6 ounces) strained Greek yogurt
Get the full recipe here at PopSugar.
Appetizers for a small group: Eggplant Pizzas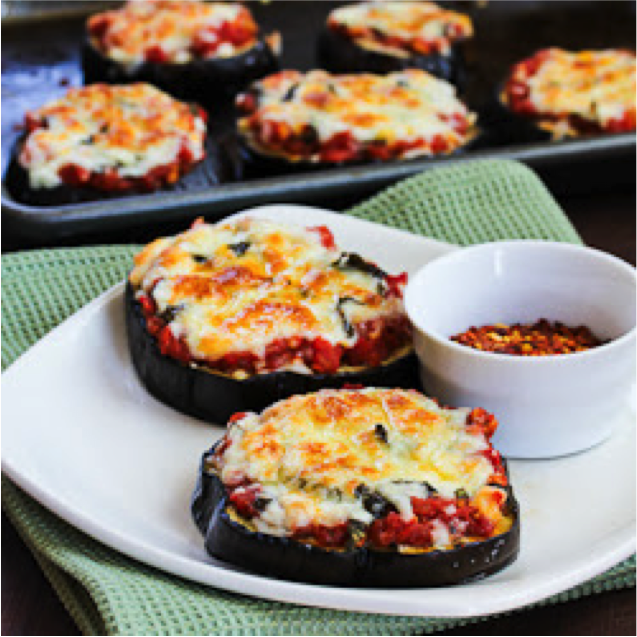 Who can resist their favorite warm, bubbling comfort foods on a rainy April afternoon? When you have access to the right low carb food ideas, resistance is easier than you think! Opt for eggplant pizzas – a meatless, gluten-free, low carb substitute for traditionally breaded chicken or eggplant parmesan.
Shopping list:
1 (8-ounce) eggplant
1 tablespoons salt
2 tablespoons olive oil
2 teaspoons dried Italian seasoning
10 large basil leaves, cut in chiffonade strips
1/3 cup Parmesan cheese
1/3 cup finely grated low-fat mozzarella blend
Hot red pepper flakes to taste
2-3 teaspoons extra-virgin olive oil
3 garlic cloves, finely chopped
1 can (14.5 ounces) petite diced tomatoes with liquid
1/2 teaspoon dried Italian seasoning
1/4 teaspoon dried oregano
Get the full recipe here at Kalyn's Kitchen.
Dinner for two: Cauliflower Pizza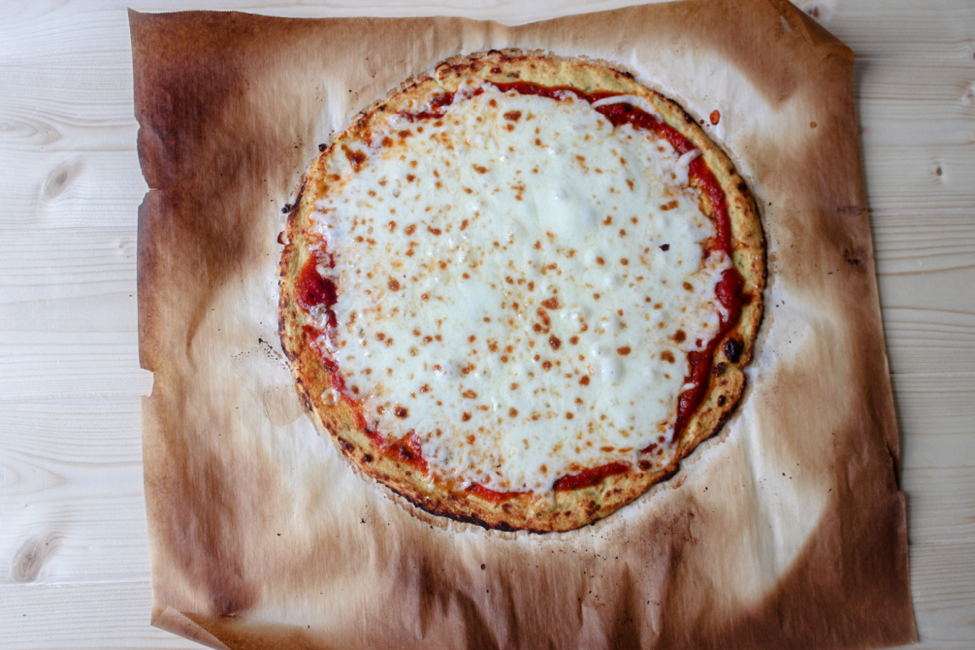 If you've searched and searched for meal ideas that fit a low carb diet, you probably already know about substituting ordinary pizza crust for cauliflower. This recipe takes the cake, with shockingly delicious results and a crust that holds itself together perfectly. Using a food processor is the easiest way to chop up the cauliflower into tiny pieces. Add veggies and serve with a side salad for a nutritious, low carb meal.
Shopping list:
1 small to medium-sized head of cauliflower
1/4 cup shredded Parmesan cheese
1/4 cup mozzarella cheese
1 egg
1/4 teaspoon salt
1/2 teaspoon garlic powder
1/2 teaspoon basil or rosemary, minced (or dry)
1/2 teaspoon oregano, minced (or dry)
1 cup marinara sauce
1 to 2 cups mozzarella cheese
Get the full recipe here at Gimme Delicious Food.
Isn't it encouraging knowing you can stick to low carb foods without feeling left out? If you have other great low carb food ideas, please share them in the comments!
You may also be interested in: Outdoor fitness ideas to fall in love with this autumn