Halloween "Trick-or-Treating" Candy Alternatives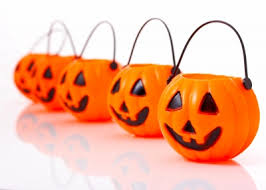 With the weight problem our children are facing, BMI of Texas wants to help you by providing some alternatives to passing out candy on Halloween.  Most children love candy and if they go trick-or-treating, they'll be getting way more of their share.   There are also children who suffer from food allergies and often feel left out during Halloween because they are allergic to most candy.
Here are some ideas that can make Halloween just as fun but not filled with sugar.  These candy substitutions can be found at your local grocery store, dollar store, craft store, or online wholesale vendors like Oriental Trading (www.orientaltrading.com).
Halloween Jewelry – such as spider rings, head bands, earrings, necklaces
Stickers – Halloween themed or character themed (Disney, etc)
Tattoos – Halloween themed or others
Stamps – Halloween themed or others
Slime or Play-Doh
Coloring books
Bubbles
Glow sticks – these come in necklaces, sticks, etc
Small Halloween toys – fangs, eye balls, spiders, etc
School supplies – erasers, pencils, crayons, paper pads etc
Halloween crafts
Fruit – Apple or Orange
Small bottles of water
Tooth brush
Small Hand sanitizer
Homemade crayons made in baking tins in a fun Halloween shape
Please share with us your great ideas so we can add to our list next year!
Have a fun, healthy and safe Halloween!
Love,
Melinda V. Gonzalez, PA-C
BMI of Texas