Halloween can be a tough holiday in terms of sticking to your healthy eating plan, especially if you're a parent watching your kids eat loads of candy. These healthy Halloween recipes will help keep you out of their treats while still satisfying your sweet tooth.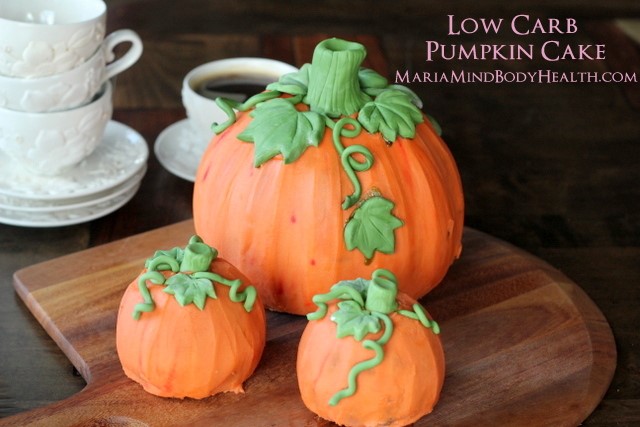 Low Carb Pumpkin Cake
Maria Mind Body Health offers this delicious and healthy Halloween recipe that's perfect for low carb and ketogenic diets! Serves: 24.
Ingredients:
3 cups blanched almond flour
1/2 teaspoon sea salt
1 teaspoon baking soda
2 teaspoons ground cinnamon
1 teaspoon ground nutmeg
1 teaspoon ground ginger
1/4 teaspoon ground cloves
1/4 cup coconut oil or butter
1 cup Swerve (OR 1 cup Erythritol and 1 teaspoon stevia glycerite)
6 large eggs
2 cups fresh OR canned pumpkin
Brown butter frosting:
1 cup butter
1 (8 ounce) package mascarpone or cream cheese
1/2 cup unsweetened almond milk
1/4 cup Swerve confectioners
1 teaspoon stevia glycerite
Instructions: 
Start by preheating the oven to 350 degrees. Combine the almond flour, baking soda, salt and spices in one bowl and then mix the butter, sweetener, eggs and pumpkin in another until smooth. Add the wet ingredients into the dry ingredients and stir. Pour the mixture into a pumpkin cake pan and then bake in the oven for 60 to 70 minutes. Decorate with brown butter frosting.
To make the filling, place the butter in a saucepan on high until the butter sizzles and you can see brown flecks. Remove the butter from the heat and then add the mascarpone or cream cheese, almond milk and natural sweetener and stir until smooth. Once cooled and thickened, use it to decorate the cake!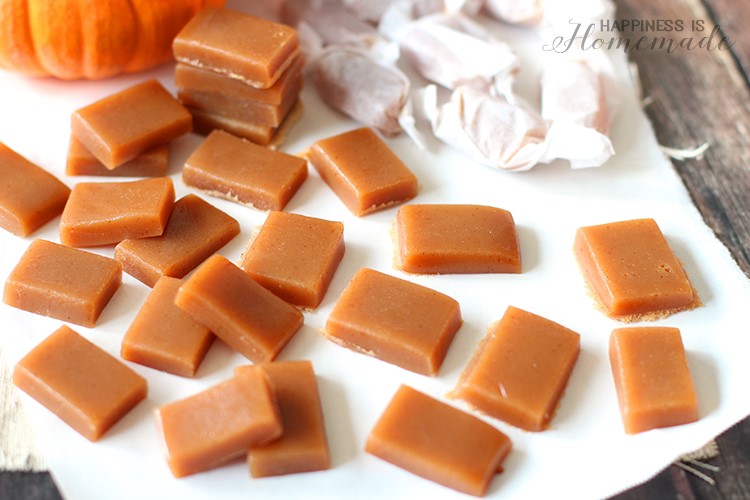 Pumpkin Spice Caramels
This candy recipe from Happiness Is Homemade contains no added sugar and produces delicious bite-sized caramel delights. Yield: 60 pieces.
Ingredients:
1 cup Agave In The Raw
1/2 cup heavy whipping cream
1 teaspoon salt
4 tablespoons unsalted butter
1 teaspoon pumpkin pie spice
Instructions:
Line the inside of a 7×11 baking dish with parchment paper.
Use at least a 2-quart saucepan and heat the Agave In The Raw, cream and salt over medium-high heat. Stir this frequently until the mixture begins to boil. Reduce to medium and continue to stir until the mixture reaches 248 degrees. Remove from the heat and then stir in the butter and pumpkin pie spice. Next, pour the caramel into the parchment-lined baking dish and refrigerate.
Once the mixture is firm, slice it into bite-sized pieces and wrap in parchment or waxed paper.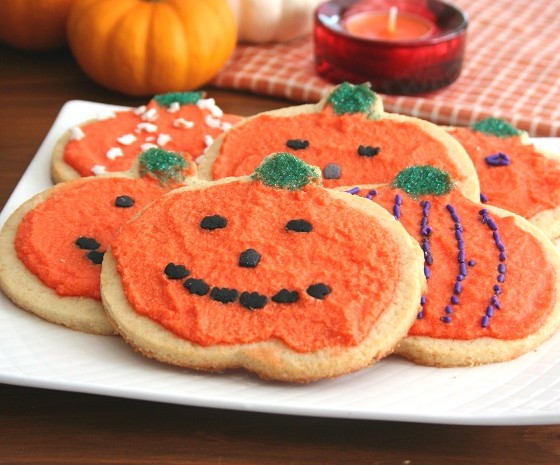 Halloween Cut-Out Sugar Cookies
This recipe from All Day I Dream About Food produces pumpkin-shaped cookies that are low carb AND gluten free, so you can enjoy several without any guilt! Yield: 10 cookies.
Ingredients:
Cookies:
2 cups almond flour
2 tablespoons gluten free oat flour OR 1 tablespoon coconut flour
1/2 teaspoon xanthan gum
1/4 teaspoon salt
6 tablespoons butter, softened
1/2 cup Swerve Sweetener or granulated erythritol
1 large egg
1/2 teaspoon vanilla extract
Icing:
4 tablespoons butter, softened
3/4 cup Swerve Sweetener or powdered erythritol
3 to 5 tablespoons heavy cream, room temperature
1/2 teaspoon vanilla
3 drops red food coloring paste
3 drops yellow food coloring paste
Instructions:
In a medium bowl, mix together almond flour, oat flour, xanthan gum and salt. In a large bowl, beat the butter and erythritol until it becomes creamy. Then, beat in the egg and vanilla extract. Finally, beat in the almond flour mixture until the dough comes together.
Put the dough onto a large piece of parchment paper and form it into a circle. Top it with another piece of parchment and roll it out to about 1/3-inch thickness. Let it chill in refrigerator for at least an hour.
Preheat the oven to 325 degrees and line another baking sheet with parchment. Cut out cookies with a pumpkin-shaped cookie cutter. Place the cookies about an inch apart on the baking sheet. For more cookies, re-roll your dough and cut some more out. Bake them for 12 to 14 minutes and then remove from the oven and let cool on a pan.
For the icing, beat together the butter and powdered erythritol. Next, add 1 tablespoon of cream at a time until the desired consistency is achieved. Finally, stir in the vanilla and food coloring and spread on the cookies once they've cooled.
For more information about how healthy Halloween recipes can fit into your eating plan, contact BMI of Texas or visit the blog!