It's that time of year when many are feeling inspired to make dramatic life changes as part of their New Year's resolutions. If your goal for the New Year involves taking positive steps toward obtaining a healthy physique, here are four options to help reshape your life and get you fit in the digital age of 2015!
Change Your Diet
As they say, you are what you eat. That's why diet is critical for both physical and mental health. It's often difficult to stay within your ideal daily consumption, especially when dining out. To simplify your life, try carrying a "food journal" and record anything you eat or drink. If you, like most people, don't know the nutritional value of everything you eat, you can simply look it up using apps available on iOS and Android.
One of the most popular apps for this is MyFitnessPal. It not only allows you to access virtually any food's nutritional value instantly, but also gives users the option to record weigh-ins, set weight-loss goals, and connect with other people for support and encouragement.
Increase Your Physical Activity
Diet and exercise go hand in hand. Pursuing one without the other is not likely to produce the results you're looking for. It may seem like a challenge to visit the gym every day, but if you have a media-streaming device, you can search for professional exercise videos on services like Hulu, YouTube, and Netflix. With these at your disposal, you're free to exercise at your convenience in the comfort of your own home. Watching too much television often leads to overeating and decreased activity levels, but now you can use TV in a positive way to help you achieve your fitness goals.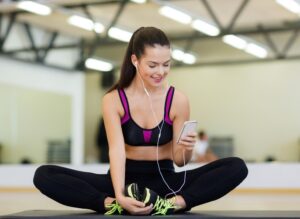 Maybe you have no problem getting to the gym, but you need a little help developing effective workout routines. There are countless free and paid apps that house extensive libraries featuring workout tips, articles, videos, and more. Some of trending smartphone apps include C25K: Couch to 5K, Challenges by Nexus, and Endomondo.
Another popular technology driven and fitness-centric gadget helping people get fit in 2015 is the Fitbit. Like the apps mentioned above, you can manage the dashboard to this device from your smartphone. It allows you to track steps taken, miles walked, calories burned, active miles, sleep, water consumed, weight loss and more.
We encourage you to take your physical activities outdoors and get involved with your community. If you're local to San Antonio and are ready to get in the best shape of your life, we recommend Fitness in the Park and TRX Boot Camp.
Get Enough Sleep
It may not seem like adequate sleep has anything to do with weight loss, but according to Women's Health magazine, getting at least seven hours of sleep per night helps you lose weight because:
A well-rested body metabolism burns more calories throughout the day.
A good night's sleep helps burn more fat instead of muscle.
You tend to want to eat more healthfully when you're feeling energetic.
Your brain has heightened inhibitions and behavior control when you get enough rest, decreasing the chance of overeating.
REM is the stage of sleep in which your body repairs itself, builds bone muscle, and strengthens your immune system.  There are numerous sleep aid apps available – including Sleep As Android, Sleepbot, Sleep Pillow, Insomnia Cure, and Sleepmaker Rain – that help users regulate and monitor their sleep patterns, resulting in a peaceful night's sleep.
Consider Bariatric Weight Loss Surgery
You'll be happy to know there are even apps to assist with weight-loss surgery journeys, some of which are designed for pre or post-surgical assistance. Barimate is one of our favorites. It contains 15 sub-apps that empower you to make informed choices about bariatric surgery, features a visual body transformation prediction, includes a food fill monitor and many other helpful features. BMI of Texas also has a smartphone compatible application that you can download from iTunes. Our application allows you to track your weight, access support groups, ask us questions directly, refill your supplements, access healthy recipes and much more!
One surgery option, gastric sleeve, involves reducing the stomach to approximately 25 percent of its original size. It's safe, effective, and proven to result in weight loss for qualified patients within 12 months. Many people who undergo bariatric surgery benefit from the procedure in the following ways:
Better control of type 2 diabetes
Improved blood pressure
Resolved sleep apnea symptoms
Lowered cholesterol levels
Improved quality of life
Reduced chance of cardiovascular disease and cancer
If you are 18 years or older, have a body mass index of 35 to 40 or higher, are medically healthy enough to undergo major surgery,  and are having a hard time losing weight on your own, then you should consider bariatric surgery.
Modern-day conveniences allow you to easily track your diet, manage your exercise, monitor your sleep, and conquer weight loss surgery, all at the tips of your fingers. With a little self-discipline, commitment and the power of technology, you can set a path for success this New Year. We're here to help make 2015 your best year yet! Contact us today to learn more about our bariatric surgery options, nutrition plans, and fitness advice.