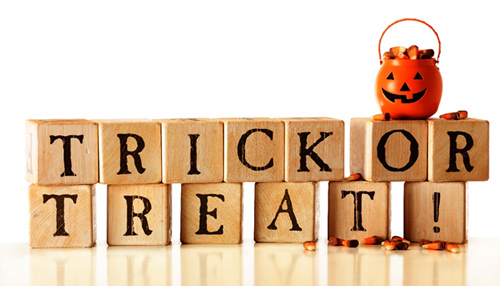 It's the day after Halloween, and it hits you—the Halloween candy hangover. It's a real thing! Every year, we tell ourselves we'll be better and will practice restraint, and yet every year, we repeat the same mistake: candy overload. Prevent this annual regret and still enjoy the fun by staying informed.
The Top 10 Worst Halloween Candies
Avoid these candies at all costs this Halloween:
10. Milk Duds: A mere 13 Milk Duds contain 170 calories, 20 grams of sugar and 6 grams of fat, making this snack a real dud.
9. Butterfinger: Once you learn Butterfingers contain "compound chocolate" – a combination of cocoa, vegetable fat and sweeteners – they might not sound so tempting. The 250 calories, 24 grams of sugar and 10 grams of fat they bring to the table is rather scary.
8. Twix: Eat both bars and you're consuming 250 calories, 24 grams of sugar and 12 grams of fat—double the trouble!
7. Swedish Fish: There are 30 grams of sugar in only seven pieces of Swedish fish. With no protein or fat to soften the blow, this treat could be a direct trigger for insulin shock.
6. M&Ms: The milk chocolate in M&Ms isn't too scary; it's the inordinate amount of sugar and corn syrup you have to worry about. Just 1/4 cup of M&Ms contains 27 grams of sugar.
5. Milky Way: When a small treat packs 240 calories, 31 grams of sugar and 9 grams of fat, you know you're in trouble.
4. Baby Ruth: This 2-ounce candy bar packs 270 calories, 27 grams of sugar and 13 grams of fat—best leave this one in the outfield!
3. 3 Musketeers: The 40 grams of sugar packed into a single 3 Musketeers bar is equivalent to four Krispy Kreme donuts.
2. Skittles: These treats may seem innocent, but each bag of Skittles has a massive 43 grams of sugar—almost as much as one cup of Chocolate Chip Cookie Dough ice cream from Ben & Jerry's.
1. Oh Henry!: This tiny candy bar has 320 calories, 29 grams of sugar and 17 grams of fat, making it worse for you than a cheeseburger from McDonald's (which has 300 calories and 12 grams of fat). Oh, no!
5 Healthier Alternatives
Now that we've covered the worst Halloween choices you could make, here are five creative recipe ideas for healthier treat alternatives. These will help you avoid the candy and overcome any tricky Halloween temptations.
Chocolate creatures: Grab your favorite Halloween candy molds and get ready to be spooked by how quick and easy these extremely low-carb, sugar-free treats are to make! Simply mix 2 tbsp. melted coconut oil, 1 tbsp. unsweetened cocoa powder, ½ tsp. vanilla flavoring, 3 pkg. artificial sweetener and 1 tbsp. almond flour in a bowl until well blended. Pour into candy molds and chill until set.
Candied pecans: In a large bowl, mix together 1 egg white, 1 tbsp. pumpkin pie spice and ¼ cup maple syrup (sugar-free). Stir in pecans and mix until coated. Spread onto a baking sheet and bake at 350°F for approximately 20 minutes, or until the nuts appear and feel dry. Cool completely and dig in!
Worms and other gummy creatures: Combine 3 envelopes of unsweetened gelatin, 2 pkg. sugar-free Jello (any flavor will work), 1 envelope Kool-Aid (or other flavored sugar-free drink mix) and 1 cup boiling water. Stir ingredients until completely dissolved and pour into an 8×8 lightly sprayed pan. Chill until firm and cut into worms, bats, ghosts or other Halloween shapes.
Clementine jack-o'-lanterns: A fun treat for the kids to make, these are low-carb, healthy sweets for the little ghouls this Halloween! Simply use a black magic marker to draw spooky faces on the outside of the clementines and serve.
Homemade hot cocoa: A great way to stay warm and cozy while serving trick-or-treaters. You will need 4 tsp. unsweetened Dutch Process Cocoa Powder, 4 packets of Truvia and 1 cup of unsweetened almond milk. Simply whisk the cocoa and Truvia together in a small pot, then add spoonfuls of almond milk while whisking. This will help you create a paste. Slowly whisk the rest of the milk and place over medium heat. Continue whisking occasionally until the mixture is hot. The last step is to pour your delicious cup of cocoa and enjoy!
From everyone here at BMI of Texas, have a safe, fun and healthy Halloween!