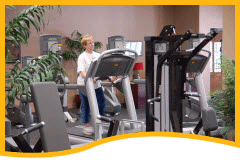 Our fitness center is located at the Foundation Surgical Hospital. This facility is truly amazing. It is designed for and built to cater to patients that are trying to lose weight. Every single piece of equipment is built for bariatric surgery patients. There is not another facility like it in Texas!
The entire staff of exercise physiologists is specially trained in bariatric exercise medicine. With their help, our patients are reaching incredible new levels of success.
Metabolic testing is done on-site. This technology measures and identifies your ideal exercise zone and enables you to exercise with the highest efficiency, focusing on burning away that fat. You will never exercise the same way again!
We are now truly able to put some science into the way you exercise along with some fun!
If you would like to see examples of exercises that you can start at home post bariatric surgery, please click here! You will also find helpful information regarding what metabolic testing is and why it's important to BMI of Texas.
---
If you would like more information or have a question, please Contact Us Today.
Or watch a free seminar!
---
Why Pay More?
Gastric Sleeve Surgery can range drastically in price, but you aren't necessarily getting better service for your money. BMI of Texas's state of the art facility allows us to cost effectively provide this proceedure while providing top quality service.
Example of how our Gastric Sleeve Sleeve Pricing Compares to the Competition


| City | Cost |
| --- | --- |
| Dallas A | $13,400 |
| Dallas B | $11,000 |
| Houston A | $16,000 |
| Houston B | $14,300 |
| Houston B | $14,300 |
| Los Angeles A | $12,000 |
| Los Angeles B | $25,000 |
| BMI of Texas | $9,400 |
Know Your B.M.I
Your Weight Loss Options
Resource Center