You always hear about people gaining weight during the winter months, but how many people actually do? Media stories often assert that the "average" American gains 5 pounds or more during the holidays. Based on a study published in the US National Library of Medicine, this is really only true of people who are already overweight. Most people, according to The New England Journal of Medicine, have an average weight gain of only 1 pound.
So, what's the big deal? Over the years, gaining a couple of pounds per year (during the holidays and at other times) leads to a higher number of people experiencing midlife obesity.
Why does holiday weight gain happen?
The winter holidays have become famous for weight gain due to several factors all working against you:
Cold weather and shorter days make you want to curl up and sleep, not exercise and do outdoor physical activities.
Busier holiday schedules get in the way of workout routines.
Thick sweaters and winter wardrobes are more forgiving, which may lessen your motivation to show off your figure.
Snacks, candy, desserts and traditional treats abound this time of year.
Family comes to visit, so there's more eating out and snacks lying around the house.
A general sense of partying throws all motivation out the window.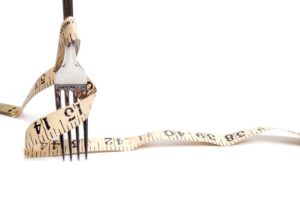 How can you avoid gaining weight this holiday season?
If these scenarios sound familiar, you're not alone. Fortunately, you can still enjoy yourself this holiday season without putting on a single pound with these tips from a weight loss expert:
Portion control: You don't need the self-control to turn down every snack that comes your way, just watch your portions. Ask for only a sliver of pie. Eat half a cookie and save the other half for later. Don't be afraid to give your snacks away if you can't eat all the goodies your friends bring you.
Tracking Intake: If you are worried about overeating, try tracking or journaling your food intake with applications like MyFitnessPal. It will help keep you accountable- especially important when there are cookies everywhere this time of year!
Half workouts: Even if you only have 20 minutes to spare one afternoon, don't assume that isn't enough time. A half workout is so much better than no workout at all. Just a few crunches and pushups in the morning before hopping in the shower is better than nothing.
Remember, every meal counts: So you indulged with a lavish pancake breakfast complete with whipped cream and bacon on the side. That doesn't mean the whole day is ruined. One bad meal still gives you the chance to eat two really good meals.
For more information about how to avoid holiday weight gain and stay fit throughout the rest of the year, please contact BMI of Texas. Our weight loss clinic offers unique surgical and non-surgical weight loss options for you to consider.
You might also be interested in: The Obalon Intragastric balloon: Our new procedure