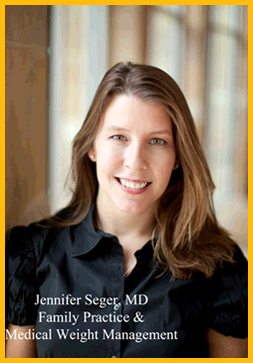 Dr. Jennifer Seger is committed to providing excellent medical care to her patients. She is passionate about healthy living, wellness, and disease prevention. The dedication she has for her patients' overall well-being has been a constant since she began practicing medicine in 2002. She is a true advocate for her patients and welcomes the opportunity to help patients achieve a healthier lifestyle.
Dr. Seger was born and raised in Houston, Texas, and moved to Austin to attend the University of Texas, where served as the President of Women in Medicine for two years, was chosen as a Peer Advisor in the Office of Health Professions, and served as an Orientation Advisor for incoming freshmen. Upon receiving her Bachelor of Arts degree in Psychology, she moved to San Antonio where she worked as a research assistant in the Department of Biochemistry at the UT Health Science Center for two years. She attended the University of Texas Medical School at San Antonio, serving as Class President and a peer advisor for first year medical students. It was here that she met and married Michael Seger, a fellow medical student. During medical school, Dr. Seger received the Paul J. Cutler award for Clinical Excellence and the Paul C. Weinberg award for Medical Ethics.

Following medical school, the Segers moved to Lubbock, Texas for residency training at Texas Tech Medical School. Dr. Seger completed her residency program in 2002 after being awarded the Most Outstanding Resident Award for her residency class from the Department of Family Medicine. During residency, Dr. Seger and her husband started their family and were blessed with three boys. Following residency, Dr. Seger worked as an attending physician in an emergency room for a year while her husband completed his General Surgery residency program. In the summer of 2003, the Seger family moved to Houston where Dr. Seger worked with an internal medicine physician practicing both inpatient and outpatient medicine. During that year, Dr. Michael Seger completed a fellowship program in Advanced Laparoscopic and Endoscopic Surgery.
When their combined training was complete, the Segers settled in San Antonio. Dr. Seger opened her office in San Antonio, where she practiced family medicine for three years before receiving a surprise that changed the Seger family's lives forever…twin girls! With a family of seven, Dr. Seger took a brief hiatus from practicing medicine so that she could devote more time to her family. While she loved being at home with her children full-time, Dr. Seger longed to practice medicine again.

When Dr. Mickey Seger and Dr. Terive Duperier opened the Bariatric Medical Institute of Texas in 2008, Dr. Jenny Seger realized this was the perfect opportunity for her to get back to practicing medicine, albeit at a reduced schedule. Dr. Seger is a dedicated physician, committed to providing excellent, comprehensive, and compassionate care to our patients. We are excited to have her join our team. She is currently practicing family medicine and medical weight loss management at BMI of Texas.
Dr. Jenny Seger also heads up the Medical Weight Management Program at BMI of Texas. For more information, please click here.
Why Pay More?
Gastric Sleeve Surgery can range drastically in price, but you aren't necessarily getting better service for your money. BMI of Texas's state of the art facility allows us to cost effectively provide this proceedure while providing top quality service.
Example of how our Gastric Sleeve Sleeve Pricing Compares to the Competition


| City | Cost |
| --- | --- |
| Dallas A | $13,400 |
| Dallas B | $11,000 |
| Houston A | $16,000 |
| Houston B | $14,300 |
| Houston B | $14,300 |
| Los Angeles A | $12,000 |
| Los Angeles B | $25,000 |
| BMI of Texas | $9,900 |
Is Weight Loss Surgery Right For You?
Know Your B.M.I
Your Weight Loss Options
Resource Center